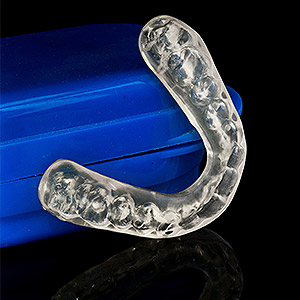 Fun fact about the NCAA basketball championship tournament, affectionately known as March Madness: financial website WalletHub says your chances of filling out a perfect bracket are 1 in 9.2 quintillion (a scratch-off from your corner bodega looks like a sound investment in comparison!). Now, here's a not-so-fun fact about basketball in general: Nearly half of all sports-related mouth injuries occur while playing hoops.
Yikes! Not to put a damper on all the revelry, but facts being facts, it's better to face them head-on. Fortunately, there's a proven way to drastically reduce the odds your star basketball player suffers an oral injury—have them wear an athletic mouthguard.
Mouthguards have been essential gear in sports like football, hockey, or wrestling for some time. Made of soft, pliable plastic, mouthguards cushion the impact of a hard blow to the face or mouth. Wearing a mouthguard often means the difference between a sore jaw and a broken one—or even losing teeth.
Mouthguards are now growing in prominence in a wider array of sports, including basketball and baseball (which makes up a substantial part of the other half of annual mouth injuries). Many youth basketball leagues now require them, and although they're not mandated in the NBA, most pro players wear them.
Simply put, wearing a mouthguard for basketball is a smart play. Here, then, are 3 tips for getting the most out of this important safety appliance.
Get a custom-made mouthguard. You can buy a retail mouthguard called a "boil and bite" that can be somewhat customized to fit the wearer's bite, but you should consider a custom appliance created by your dentist based on the wearer's mouth dimensions. Although more expensive, they don't require as much material as the retail version. This makes them more comfortable to wear (and easier to communicate with others), while still providing maximum protection.
Get it updated every few seasons. Young players' jaws change rapidly during their childhood and teenage years. The measurements used to create a mouthguard may be obsolete after a couple of seasons—meaning the mouthguard may lose its proper fit. That's why it's a good idea to have your dentist check the fit each year and, if need be, create a new one based on your player's current mouth.
Wear it for all basketball activities. Formal contests only make up a small part of basketball activities—an organized team often practices five hours or more for every hour of game play. A player is just as likely to be injured practicing (or during pick-up games) as they are during real-time games. As a rule of thumb, then, any time your player goes on the court, they should wear their mouthguard.
If you would like more information about athletic mouthguards, please contact us or schedule a consultation. To learn more, read the Dear Doctor magazine article "Athletic Mouthguards."