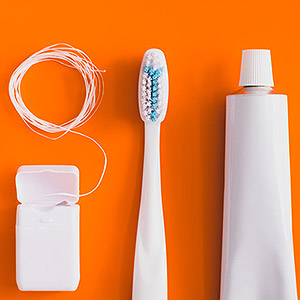 It's time for your daily oral hygiene session, so you reach for your toothbrush. Or…do you pick up your floss dispenser instead?
Or, maybe you're just paralyzed with indecision?
No need for that! Although there are pros and cons for performing either task first, choosing one or the other to open up your oral hygiene session won't interfere with your primary goal: removing harmful dental plaque. In the end, it will likely come down to personal preference.
You might, for instance, prefer brushing first, especially if you seem to generate a lot of gunky plaque. Brushing first may help remove a lot of this built-up plaque, leaving only what's between your teeth. Flossing away this remaining plaque may be easier than having to plow through it first, and creating a sticky mess on your floss thread in the process. In the end, you might simply be moving all that plaque around rather than removing it.
So why, then, would you want to floss first? Flossing initially could loosen the plaque between teeth, thus making it easier for your toothbrush to remove it. Flossing first could also serve as your reconnaissance "scout," helping you to identify areas of heavy plaque that may need more of your attention during brushing. And, you might find your mouth feels cleaner if you finish off your session with brushing rather than flossing.
There's one more good reason to floss first: You might not do it otherwise. It's not a secret that flossing is many people's least favorite of the two hygiene tasks. Once you finish brushing, it's tempting to simply shrug off flossing. Doing it first gets what may be for you an unpleasant task out of the way.
So, which approach is best for you? It may help to simply experiment. Try one way for a while and then try the other way to see which one feels best to you. What's most important is that you don't neglect either task—brushing and flossing together is your "secret sauce" for maintaining a healthy mouth.
If you would like more information on effective oral hygiene practices, please contact us or schedule an appointment for a consultation. You can also learn more about this topic by reading the Dear Doctor magazine article "Brushing and Flossing: Which Should Be Done First?"